Overview
Our specialists in orthopedics and rehabilitation from the Malvazinky Rehabilitation Clinic in Prague now offer 20-minutes-long online video medical consultations where you can face-to-face discuss the burning questions you have about your health condition.
Our doctors will provide you with their expert opinion and your treatment options. The price of the consultation is 250 EUR. The only requirement is for you to have Internet connection and send us your medical records for our evaluation in advance, so we can prepare for you. An interpreter will be available for the whole time of the online consultation.
Providing medical records
We put a strong emphasis on keeping the sensitive personal information from our patients' medical records safe and secure from any third party. Therefore, we would like to ask you to send us your documentation in a secure form.
The best way to do this is to simply save all your medical reports, X-ray and MRI images to a file using .zip format and secure it with a password.
Afterwards, please send the "zipped" and password-protected file to one of our e-mail contacts. In the end, send the password for this file together with your name to the telephone number of one of our representatives.
We will proceed in the same way when we send you the medical report compiled by us.
These principles of secure communication are in line with the GDPR.
Online video consultation
An online video consultation is a live interview directly with one of our medical specialists on an arranged date. The consultation will take the form of an online conference via the secure WebEx service. Using this service is very simple and intuitive. We will send you more details in advance, including an invitation to a specific time with a link.
For more information, do not hesitate to fill in our contact form or get in touch with one of our representatives below.
CONTACTS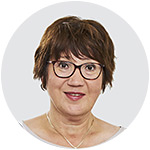 Světlana Hajšmanová
Key Account Manager
Malvazinky
Rehabilitation Clinic
+420 605 238 749
Our specialists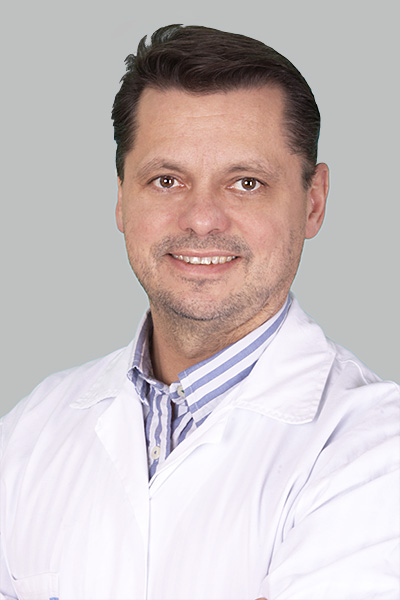 Dr. Vladislav Hospodár
Head of Department of Orthopedic Surgery
Malvazinky Rehabilitation Clinic in Prague
Graduated from the Faculty of Military Health Sciences, University of Defense in Brno.
From 1989 to 2002, he worked in different positions at The Military University Hospital in Prague:
Chief Physician of the Outpatient Department of Orthopedics and Traumatology,
Chief Physician of the Sports Traumatology Department,
Chief Physician of the Joint Implants Unit at the Department of Orthopedics and Traumatology.
Since 2003, Head of Department of Orthopedic Surgery and Total Joint Replacement Unit at The Malvazinky Rehabilitation Clinic in Prague.
Successfully completed many international fellowships and internships (e.g. Canada, USA, UK and many others).
Attending physician of the Czech national handball, basketball and ice hockey teams (e.g. participation at the 2010 World Championship in Germany as the Chief Physician of the National Ice Hockey Team).
Frequently treats numerous successful Czech athletes and regularly attends the Czech National Team at the Winter Olympic Games (2014 in Sochi and 2018 in Pyeongchang).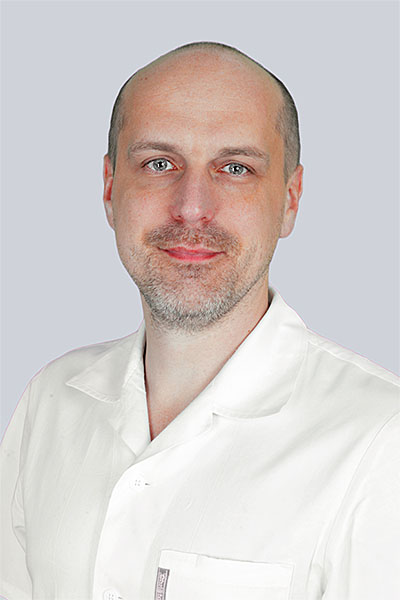 Dr. Libor Musil
Head of Department of Rehabilitation
Malvazinky Rehabilitation Clinic in Prague
Graduated from the Faculty of Medicine of Charles University in Pilsen.
Passed the Medical Board Certificate in Neurology (2008).
Passed the Medical Board Certificate in Rehabilitation and Physical Medicine (2011).
Head of the EMG Laboratory and physician at the Chronic Back Pain Department of the Neurology Department of the Královské Vinohrady University Hospital, Prague (2002-2009).
Attending physician for neurorehabilitation at the Center for Locomotor System Medicine, Prague (2012).
Since 2013, he has been Head of Rehabilitation at the Malvazinky Rehabilitation Clinic in Prague.
In 2007, he was awarded a prize by the Czech Neurological Society for the best thesis in clinical practice and case research.
He has written articles for medical journals and held several specialized courses, including Diagnostics and treatment of pain in rehabilitation, Comprehensive EMG II or Developmental kinesiology in manual medicine.
Dr. Musil is the Chief Attending Physician of the Czech National Sledge Hockey Team with regular participation at the Paralympic Games as the Team's main physician.